It's funny how sometimes life brings you full circle with a flash of reflection.  That moment when you are simultaneously grateful and shocked by everything that led up to now.  A "Wow!  That all really just happened." kind of instance.
About three years ago to the day, and without much planning, a good friend (Alicia) and I decided to attend an event in Austin led by Chris Brogan.  Both of us were interested in learning more about this whole blogging thing and Chris seemed to be a good guy to learn from.  After just over an hour of driving through some pretty rainy weather, we arrived at the AMD campus and made our way into the near empty training area.  Apparently the weather scared most other attendees away – lucky us… all eight in attendance.
We spent the day listening and learning from Chris about his concepts on trust and how being authentic was the key.  Have passion, be yourself, go with it and be true.  He introduced us to all kinds of new social media tools and pretty much dunked our heads into the world of "social."  It was an "Ah-Ha" kind of day that opened quite a few doors.
I started blogging about recruitment-related topics and started a fun social media project aimed at helping worthy causes.  The whirlwind of events that followed would require a book… but, in short, my world changed for the better and it's been awesome.
Along the journey, I grew very interested in how companies were approaching this new world of communication.  How could companies possibly rely on antiquated employment branding tactics in a world that was demanding transparency and openness?  Glassdoor.com and an interesting conversation with Tim Besse was a pretty major affirmation that this new reality was firmly in place.  Gone were the days of shiny objects without substance.
In September of 2009, I was approached by Paul Norman at Rackspace on how some of these new approaches could be put into practice.  Conversations led to an engagement to build out a strategy – which ultimately led to the conceptualization of rackertalent.com.
My first "official" day as a Racker was in March of 2010 at SxSW – about a year after first meeting Chris Brogan.  An interesting opportunity to get a tattoo came up in the middle of the show and I decided to commemorate this exciting day with a Fanati-guy tattoo.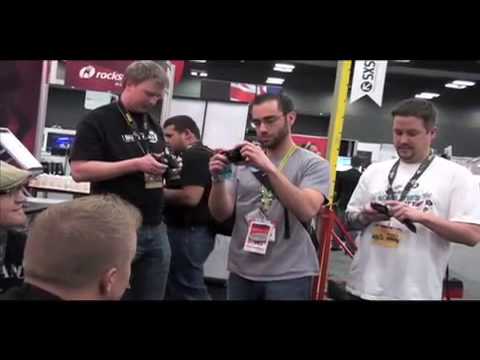 Onward and forward with rackertalent.com – building a community of bloggers at Rackspace to share the stories and perspectives about being a part of this really unique place.  I called it Culture Branding and started developing the philosophy behind why and how we would pursue this new approach.  In 2011, right before speaking at Bill Boorman's #TruLondon unconference, I shared my perspective publicly.  This paragraph from the accompanying post sums it up well.
It's great to become an employer of choice, to win awards and to show the world the laundry list of reasons why our workplaces are great.  But, more importantly, we should always keep in mind that the most engaged and longest lasting contributors to our organizations are the ones who fit within our cultures.  Our goal should be to accurately depict ourselves knowing good and well that for the right person, we will absolutely be their best place to work.
Over the following year, we continued to learn about the benefits of the approach and saw some pretty impressive site growth – both as a result of the culture site and the partnership with Jobs2Web.  The Art & Science sorta speak.
Later on in 2011, I received the nod from Lew Moorman and Henry Sauer to build on the strategy by assembling a rock star cast of Rackers to be a part of the Culture & Communications Support team.  With the combined functions of Culture Branding, Internal Communications and Videography we hoped to amplify our focus and increase our ability to document, share and celebrate our culture.  I'm super proud of the team we've built and grateful to be a part of it… check them out in slow motion 😉
Visits to our career site are showing some amazing progress just two years after launch – from 12,000 a month in 2010 to 100,000 a month in 2012.  We've also established some solid proof that our culture site serves as the highest quality and quantity source of candidates.  Ends up there might just be something to this Culture Branding stuff!
My team, "C+C Support Factory" as we call it, pushes forward in the pursuit of documenting the very unique corporate culture we are a part of.  A wide variety of artistic mediums are represented – videography, photography, graphic design, writing, cartooning and more.  Needless to say, we have some pretty wicked white boarding sessions 😉
On the heals of a very exciting week, Dave Sims embarked on one of his signature "Day in the life" projects.  Over the course of one day, Dave manages to video, edit and publish a short clip that truly captures the spirit of being a Racker.  Check this magic out!
Full Circle Moment
I keynoted this morning at Craig Fisher's Talent Net Live conference in Austin on the topic of Culture Branding.  The evening before, Hugh MacLeod from Gaping Void helped me with the presentation by summing up my message.  Here are the slides:
A great group of 100+ Recruiting and HR professionals attended this annual pre-SxSW event.  As I listened to speakers throughout the day, it became increasingly obvious that our focus on telling the authentic story has a valid place.  More and more companies are adopting these principles and I'm excited to see the long-term impacts.
As I walked through the venue towards the event, I noticed a guy sitting at the bar having a margarita.  I stopped, turned around and realized that Chris Brogan was sitting there.  I walked over, shook his hand and thanked him for giving me the kick-start he did three years earlier (almost to the day).  I told him about the adventure that followed our first meeting and the impacts that had resulted.  He knowingly smiled.
It was the kind of full circle moment you hope for.  The opportunity to thank a person who makes you think and gives you the necessary kick-in-the-ass to go do.
What a ride.  The future looks bright.  Now, let's get on with the business of changing the world!